Founder, Nordskog Industries, Inc.
(Father of Gerald Christian Nordskog, owner of Nordskog Publishing)
(Born May 7, 1913 , Seattle, WA; d. Los Angeles, July 15, 1992)
One word defined Bob Nordskog throughout his illustrious powerboat-racing career: longevity. The "Iron Man," as he was known, established a reputation for being able to do it all himself, setting ocean-endurance records at ages when most of us would be contemplating how we'll spend our retirement. Most competitors who ran the grueling Parker 9-hour Enduro had a backup driver. Not Bob Nordskog. He ran the whole thing himself – and won.
That he raced until a month before his death at the age of seventy-nine in 1992 (and won) was a testament to the unstoppable drive that propelled him to an unsurpassed record of fifty-one victories in offshore racing. He succeeded, in fact, in everything he did.
A resident of the Los Angeles area since age three, Bob made his mark in the airline industry. He had an uncanny knack for mechanical engineering and, through the years, worked for Northrup and Lockheed, where he specialized in rebuilding damaged aircraft. Bob's project list included Howard Hughes's Lockheed Model 14 and the Spruce Goose.
In 1951, Bob launched Nordskog Mfg. Co., which eventually evolved into Nordskog Industries, one of the world's leading manufacturers of airline galleys. Company divisions included Nordskog Electric Vehicles (battery-powered industrial vehicles), Nordco Products (airline ground-support equipment), Nordskog Marine Center (retail boat dealership), and the Nordskog Competition Center, which housed his race boats (he had twenty through his career) and speedometer business (click here for a list of Nordskog Innovations). He even dabbled in professional sports as owner of the Los Angeles Skyhawks soccer team.
As publisher of Powerboat Magazine from 1968 to 1992, Bob promoted recreational performance boating and powerboat racing. He developed the Performance Trials testing program, which remains the most objective evaluation process in the marine industry. Bob personally tested 1,200 boats.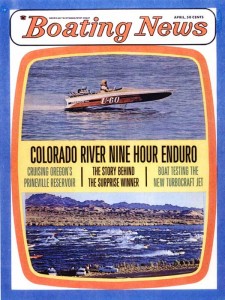 In aquatic competition, Nordskog had no equal. During a forty-three-year career, he earned 162 checkered flags and set fifty records in six different boat-racing disciplines. In 1986, he earned the American Power Boat Association's highest accolade, being inducted into the organization's Honor Squadron. Bob Nordskog was founder and president of Pacific Offshore Powerboat Racing Association. He was president of the American Power Boat Association. As a sportsman and private citizen, he organized and promoted scores of offshore powerboating events, including the "Golden Gate to Spruce Goose Chase," which raised a quarter million dollars to benefit the U.S. Olympic Committee for the 1984 Olympics in Los Angeles.
Blessed with natural driving finesse, Bob mastered all types of racing. In 1953, on Muroc Dry Lake, he set a still-standing land-speed record of 125 mph in his Model T Ford. On the water, he established six diesel speed records on the same day, March 5, 1978, plus numerous endurance marks, including San Francisco-to-Los Angeles and Canada-to-Mexico.
He didn't start offshore racing until he was forty-six, and at seventy-nine, in his final race, Bob went out a winner, averaging 93 mph, to take honors in his forty-foot Fountain, Powerboat Magazine Special. He was driven to the victorious end: a fitting way to close the book on Bob Nordskog's amazing career. Bob was posthumously inducted into the prestigious Motorsports Hall of Fame in Novi, Michigan, on June 4, 1997.
Bob Nordskog Articles: Honoring a Legend, The Lure of Powerboating
Motor Sports Hall of Fame Museum Grand Opening in Daytona Beach, Florida (previously located in Novi, Michigan – larger facilities needed). Bob Nordskog was inducted in June, 1992, to HOF. 
Invalid Displayed Gallery