Roger was a personal friend for years. We met at Valley Presbyterian Church In San Fernando Valley about 1989 (he was John Wesley), and we came out to the Community Pres Church as I chaired the event of having Roger address everyone as St. Patrick giving the famous Confessions of the Faith (along with the Ventura-based Irish dancers), 1999. The last time we visited in person was on Saint Patrick's Day for dinner at the Tower Club in Oxnard, CA when we also enjoyed the Irish dancers, and we ate corned beef & cabbage, along with my wife Gail.  He committed his life to serving the Lord by giving his one-man plays of both of these heroes of the faith.  Roger was indeed a dedicated Christian servant (and actor).  
– Gerald Christian Nordskog —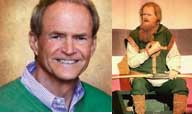 Guest essay by Robert Myers
Editor's note: Christian audience had for many decades known Roger Nelson for his stage character portrayals as John Wesley and St. Patrick. I personally witnessed Roger's striking and memorable portrayal of John Wesley in Ventura County in the late 1970s. Our publisher Jerry Nordskog met Roger in 1990 and remained friends to the end.
Dear Friend of Roger Nelson:
It is with a great sense of loss that I bring you the sad news of Roger Nelson's death. Roger entered into the Lord's presence peacefully under loving hospice care on January 12, 2019.
Roger's sister, Joan, visited him daily and though Roger slipped in and out of consciousness, Joan observed many encouraging signs that he was "in touch" with the Lord during his final days. Joan shared that a few days before his death she observed one of Roger's Christian nurses praying fervently out loud at his bedside. As the nurse left the room Joan heard Roger whisper a faint "hallelujah."
As Roger's friend and brother in Christ for over 35 years I will miss him deeply. For all these years we lived only a short distance from each other and visited frequently. We shared countless meals together, times of prayer, laughter, tears, years in a men's bible study/support group, TFOJW board meetings, USC football games, bike rides, tennis games and many road trips.
In the early 90s it was my pleasure to accompany Roger for two weeks in the UK where he gave multiple performances of "The Man from Aldersgate" (character portrayal of John Wesley) at the Stratford-Upon-Avon Shakespeare Festival. I attended and assisted with every performance.
Over the years I've seen his Wesley and Saint Patrick plays dozens of times. Every performance was professionally given with the true ring of the gospel and Christian message. Many met Christ through these performances and through Roger's ministry.
As we grieve the loss of our loved one let us also rejoice together that Roger has entered into the presence of the Lord for a joyful eternity.
Letters/emails can be sent to his sister:
Joan Horn
8601 NE 19th Pl.
Clyde Hill, Washington 98004
Email: JoanCHorn@me.com