Guest essay by Michael Green
Right now, my iPod is blasting, "If you've got pain, He's a pain taker…. He's the Chainbreaker!" Powerful songs, indeed. Many of today's current praise songs are quite sweet and anointed!
History tells us, every new touch of God brings a fresh touch to our worship experience and, for more than a few years, I've had a bit of a front row seat to the proceedings.
The first time I sang a gospel song, I was standing on a chair. The songs were in my blood. And, as many of us in the "Lifelong Gospel Singer Fraternity" will admit, the songs of Zion touched and grabbed our hearts when we were just young children.
My beginning years were influenced by the excitement and oomph of the Southern gospel quartet sounds, with the high tenors, the smooth bass singers and jazzy piano licks, the infectious energy of the Black gospel sound, mixed with a special love for those big-voiced Pentecostal altos! Man, you talk about exciting! (And since everything else was a sin, it was good entertainment, too.)
Later in the journey, my gospel singing and then choir-directing years, moved me into a third area of worship expression. The old timers used to call us the "song leaders." But, thank God, with the next move of the Spirit, another more prestigious title was bestowed on us. We were now "worship leaders."
From small hotel meeting rooms to giant arenas, I've seen God do great things in the powerful moments of corporate worship! I've experienced it many times; and yes, He really does inhabit the praises of His people!
Throughout church history, the practice of lifting our voices in praise has been a special and vital component when God has moved. And with each wave, a deeper touch was evident.
About seventy years ago, coming out of the early revivals and the Spirit moves of the late 50's, a new expression emerged—it was a new touch. Adding to their long tradition of hymns, gospel songs, and the more inspirational "Sunday night songs," many churches started singing simple choruses.
These usually four-line affirmations spoke of our love for Jesus, our expression of faith, and our need of His help. The songs were reachable, relatable, and singable (an important point to remember in any era.)
As the worship influences expanded, the saints were also reaching into a deeper revelation of "psalms, hymns, and spiritual songs." We started to sing songs from our hearts. Some called it "singing in the Spirit." It was a sweet song that could not be found in any book, and God's presence was sweet.
In the late 60's and early 70's, as the social climate was changing, some of our praise sounds were changing too. We heard about some folks from California who were singing praises with a new fervor. And man! They had guitars and drums!
During this time, our transistor radios began to reflect those changes as top forty radio stations broadcasted "O Happy Day, Since Jesus Washed My Sins Away" and "Put Your Hand in the Hand of the Man from Galilee" on the same playlists sandwiched between "Let It Be" and "Light My Fire"!
In the middle of this, we kids were really excited about another cool sound and rhythm that really intrigued us; we started asking, "Have you heard Andrae Crouch's new album?"
Then, we started hearing second and third generation cassette copies of some people singing and praising from New Zealand. In fact, some of them were singing lyrics directly from the Scriptures! The likes of "This Is the Day," "As the Deer," and "I Will Enter His Gates" got us kicking, and the tambourines fired up! And soon, Scripture songs became a full industry by itself!
(BTW, a big case can be made regarding the invention of the cassette tape as being the most revolutionary tool in spreading the songs and the messages of revival. Now, in reachable and accessible form, the cassette brought the Word and new worship sounds to the world!)
In many churches, the traditional choral cantatas were being replaced by the praise musicals, inviting the congregations to lift their hands and their voices and participate in the praise. We loved the new variety of music, and God moved!
But, mixed with all these new experiences, one form of worship seemed to be headed for the endangered species list: the hymns. They weren't hip anymore. Besides, those books were bulky, filled with archaic language, and they wouldn't fit on our newfangled overhead projectors anyway.
I'm not the "get off my lawn" guy but, even then, while enjoying all the new blessings, I felt the loss strongly.
Now, over forty years later, I still feel the loss. Generations have missed some majestic musical settings, important doctrinal truths and well-crafted, inspired lyrics that spoke to the deep needs of man. Songs that told us about the "deep, deep love of Jesus, vast and unmeasured, boundless and free!"
In the worship of today, in addition to the hymns, it seems another missed experience is prominent: the loss of harmony! Our hymns of the faith had harmony. They even helped teach us to read music!
Harmony is an actual, on-earth exercise of the heavenly spirit! The family comes together, each finding a part, to create the burst of color, affirmation, and fellowship! Harmony! It's a God thing!
Some of us remember the little old lady in the 80's commercial who was looking for the beef. And today, I find myself asking, "Where's the harmony?"
It seems the casualness of some of today's worship experience has also intentionally avoided the grand, majestic sounds of praise. Some have said they want to avoid sounds some may interpret as "too militant."
But know this, there is an undeniable power when, as one, congregational voices kick in with a thunderous, "O that with yonder sacred throng we at His feet may fall. We'll join the everlasting song and crown Him Lord of all!" Boom! Demons flee. Faith builds.
While I'm at it, our musical affirmations do not have to remain in dark, somber, minor keys. There are many moods in our worship experience. They are more joyful and affirmative than somber. Somewhere, I guess it became important to enact a subdued posturing in order to create the religious mood.
The current casualness of today has also helped foster another loss: the sense of tradition, the sense of dignity, the sense that what we are doing today is part of our history and our future; we belong to something grand, something godly and something majestic!
My friend Mr. Gaither told me, "We don't sing them [the hymns] because they are old, we sing them because they are great; they have stood the test of time and they carry so much of our history."
My heart? I want to share with the generations who have missed the truths that have sustained us in many of our life experiences, good and bad.
The comforting, "O, what peace we often forfeit, O what needless pain we bear. All because we do not carry everything to God in prayer." Or the quiet love moment: "My gracious Redeemer, my Savior art Thou. If ever I loved you, my Jesus, 'tis now."
In the dark times, these are the words that have come back to speak comfort and remind me of my moorings: "When darkness seems to hide His face, I rest on His unchanging Grace…. On Christ the solid Rock I stand!"
In morning devotions: "All I have needed, Thy hand hath provided. Great is Thy faithfulness!"
In my future duties: "When we've been there ten thousand years…we've no less days to sing God's praise!"
In remembering the depth of His sacrifice: "So I'll cherish the old rugged cross."
These words have always been dependable and sustaining, and in the unprecedented pressures of today's world, our kids need these words and these timeless truths.
Commendably, some writers today have used lines from our heritage repertoire, and that is good. But there is more. Our kids and our churches need to learn more than eight bars of an old song. They need to be encouraged to look at the verses to broaden the message and dig deeper into the seeking soul.
Perhaps it might be time to take a moment to pre-teach the worship team about these songs. Tell the story. Explain the lyric. Give it context. Maybe start with one a month. Sing it a few weeks in a row. Adapt the tempo a bit if you need.
Then, talk about some of the great writers. Although bIind, Fanny Crosby was "watching and waiting, looking above." The talented Isaac "Joy to the world, the Lord is come" Watts was pretty hip in his day. Charles Wesley composed the song, "O for a thousand tongues to sing my great Redeemer's praise!" Horatio Spafford, in the midst of most tragic loss, affirmed, "It is well with my soul."
And, although modern hymnology has omitted much of it, we can't miss the songs of the cross and the themes regarding the shedding of Jesus' precious blood. It happened. It sealed our salvation. And we must never lose our awe and appreciation.
A few years ago, a talented moviemaker gave us the stirring depiction of John Newton's journey and the birthing of "Amazing Grace." Newton's majestic song, along with "How Great Thou Art," are now two of our most beloved hymns; in fact, they have become a part of the "Americana" lexicon. This is great, but there is more. These songs are for the entire Body, as participants together, in majestic worship moments.
It does seem we have regressed from the corporate praise experience to an audience of observers, watching a few thin, hip ones, midst the smoke and lights, telling us the skies are blue and the flowers are beautiful. Pass the coffee, please.
In my journey, the hymns have never left my heart or my walk. They are still there, right next to "Holy Spirit, You Are Welcome Here" and "I Am Not Alone."
Yes, we need a continued fresh worship touch, and it should embrace the fulness of the God intended experience. My prayer is, "Lord, let it happen!"
In pondering these words, I wondered what five hymns of heritage, doctrine, and life lessons I would want my kids to know. The task of choosing is tough, and the debates will always be. But here's my take (in no particular order), along with my ten honorable-mention picks.
The Five
All Hail the Power of Jesus' Name
Blessed Assurance
Great Is Thy Faithfulness
What a Friend We Have in Jesus
Amazing Grace
Honorable Mention
O for a Thousand Tongues to Sing
Crown Him with Many Crowns
How Great Thou Art
Praise Ye the Lord, the Almighty
There Is a Fountain Filled with Blood
On Christ the Solid Rock I Stand
Joy to the World
The Old Rugged Cross
I Sing the Mighty Power of God
Holy, Holy, Holy, Lord God Almighty
Let our kids be blessed. Let harmony fill the air. Let the singing begin.
What's on your list?
Michael Green is Husband, Dad, Speaker, Singer, Producer, Writer. From NOLA.
Twitter: @MichaelGreen77, Email: MGLifeGate@aol.com,
Facebook: LifeGateChurchMinistres, www.TheLifeGate.com
© 2018 Used by Permission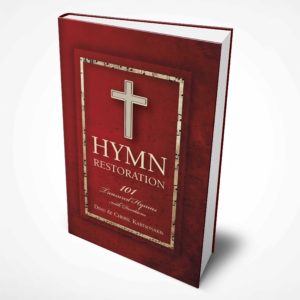 HYMN RESTORATION
101 Treasured Hymns with Devotions
Hymn Restoration is about introducing a new generation to the musical treasures of Christian history. Dino Kartsonakis has brought his passion for and knowledge of sacred music to the task of selecting 101 of the best from the vast history of hymns. The hymns are presented alongside devotions that expand on their themes. We hope that they will uplift and encourage you in your faith.
Nordskog Publishing (NPI) provides articles and essays by select guest authors which we believe have much to offer the Christian community—to motivate Biblical thinking and action. We believe in the market place of ideas within the context of God's Word. However, we may disagree at points. Publishing an article does not mean absolute agreement. Therefore, please understand that opinions expressed are those of the author, and do not necessarily reflect the opinions of NPI, nor of its editorial staff.